CONGRESS VENUE
---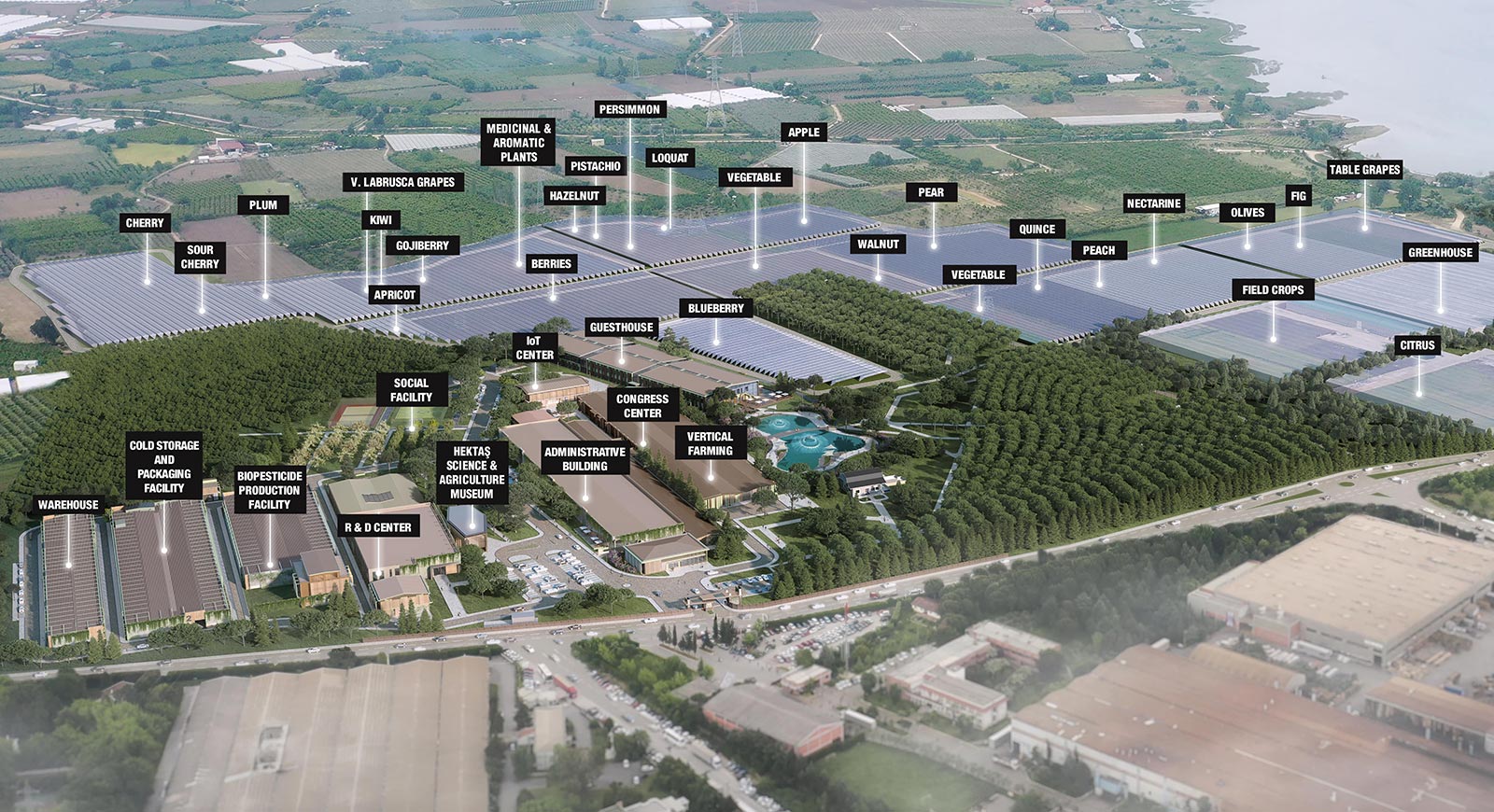 HEKTAŞ AGRICULTURAL INNOVATION EDUCATION and EXPERIENCE CENTRE
Located in Orhangazi, Bursa, the HEKTAŞ Agricultural Innovation, Education and Experience Centre is one of the first R&D centres in Türkiye while acknowledged as one of the best in the world. Established with support from academics from renowned universities in Turkey and abroad, HEKTAŞ Agricultural Innovation, Education and Experience Centre is the most comprehensive agricultural R&D facility built on an area of 607 thousand square meters, focusing on increasing agricultural productivity through fully digitalized processes.
Thanks to its location and microclimate, the Orhangazi district in the city of Bursa is in a position that allows the cultivation of numerous fruits, vegetables, field crops, medicinal plants and herbs. With its proximity to the İznik Lake, which gives it a sea climate, farms can easily grow varieties here which require special climatic conditions, such as kiwi, blueberry, chokeberry, hazelnut etc. At the same time, owing to its geopolitical position, it offers easy and fast access to all corners of Türkiye by land, air and sea.
Agricultural production is carried out at the facility on an area of 407 thousand square meters where the following are cultivated; Stone fruits and pome fruits (peach, nectarine, olive, plum, apricot, apple, pear, apple, persimmon), hard-shelled fruit trees (walnut, almond, hazelnut), field crops (wheat, sunflower, rice, corn), medicinal plants and herbs (chokeberry, blueberry, blackberry, raspberry, black currant, gooseberry, honey locust, sugar grass, lemon grass), a smart greenhouse for soilless agriculture (tomato-melon-water melon-cucumber), a tropical climate greenhouse which will be completed in 2023 (banana, avocado, papaya, mango, passiflora, dragon fruit, pineapple), a robotic unmanned vertical agriculture centre, and open and closed vegetable plots.
The yield per decare is above the Türkiye average across all varieties. We owe this great achievement to our technical team, each of whom is an expert in their field. Production is carried out by integrating the latest production technologies whereby an innovative approach is embraced in every field. In order to show these innovations to Turkish farmers and the farming industry as a whole, and to ensure that they achieve sustainable yields, leading farmers and industry stakeholders from all corners of Türkiye are welcomed at the facility throughout the year. During these visits, guests enjoy comprehensive presentations about different plant nutrition, protection and cultivation techniques.
One of the most important functions of the Centre is to offer different experiences to Türkiye's agricultural producers and HEKTAŞ customers by utilizing innovative practices in agriculture, in the context of providing education and experience. At the Centre, which focuses on increasing agricultural productivity through fully digitalized processes, all projects are executed using the latest technologies and modern production techniques and shared with producers, dealers, academicians and students.
Backed by a blockchain infrastructure, production is carried out in "smart greenhouses". By obtaining healthy and residue-free products with the right agricultural practices and spraying programs, the journey of the product from seed to table is recorded in an unalterable way thanks to the Hektaş Traceable Safe Food Platform using blockchain technology, and all these processes are offered to the end consumer through digital platforms.
When the facility becomes 100% operable, it will continue its education, production and innovation activities with its 407 decares of agricultural land, 140-bed guesthouse, a la carte restaurant, agricultural museum, beneficial insect production centre, biological product laboratories, social amenities, product processing and packaging facility, cold storage, administrative buildings and indoor-outdoor parking lot.
---
HOW TO GET THERE?
ISTANBUL INTERNATIONAL AIRPORT
ISTANBUL INTERNATIONAL AIRPORT (in European Side of Istanbul) is the main international airport serving Istanbul, Türkiye. It is located in the Arnavutköy district on the European side of the city. This is the major and biggest airport in Istanbul. Planes arriving from US & Canada directly and only fly to here. There are flights available from Europe, Asia and Africa. This airport is 1.5 hours away from the hotels and the congress venue.
SABİHA GÖKÇEN INTERNATIONAL AIRPORT
SABİHA GÖKÇEN INTERNATIONAL AIRPORT (in Asian Side of Istanbul) is one of two international airports serving Istanbul and located 32 km (20 mi) southeast of the city center. Sabiha Gökçen Airport is in the Asian part of the bi-continental Istanbul and serves as the hub for AnadoluJet and Pegasus Airlines. Most of the international flights are from European countries. This airport is 1 hour away from the hotels and the congress venue.
There will be shuttle services between airports and hotels. The shuttle fee is 20 EUR (One way / per person). Time table will be announced later.